Resin Bound Patios are a terrific way to make your outdoor area more usable and attractive. You may construct a patio that is attractive and long-lasting by employing a resin bonded system. This material produces a slip-resistant and weatherproof surface. Resin-bound systems combine stone and resin. Because of this, they may be used in any outdoor environment, from houses to companies.
Resin-bound patios have the advantage of being able to be customized to fit any style. A resin-bound system may fit your preferences, whether you desire a classic patio with stone tiles or a more contemporary design with sleek and smooth surfaces.
A resin patio and resin bound paths is also an excellent choice for establishing a focal point in your yard or breaking up a monotonous area. It may be an excellent place for your kids to play, or you can use it to entertain your friends and family. The options are limitless. We will inform you every step of the way to ensure that your resin patio is completed to your precise specifications.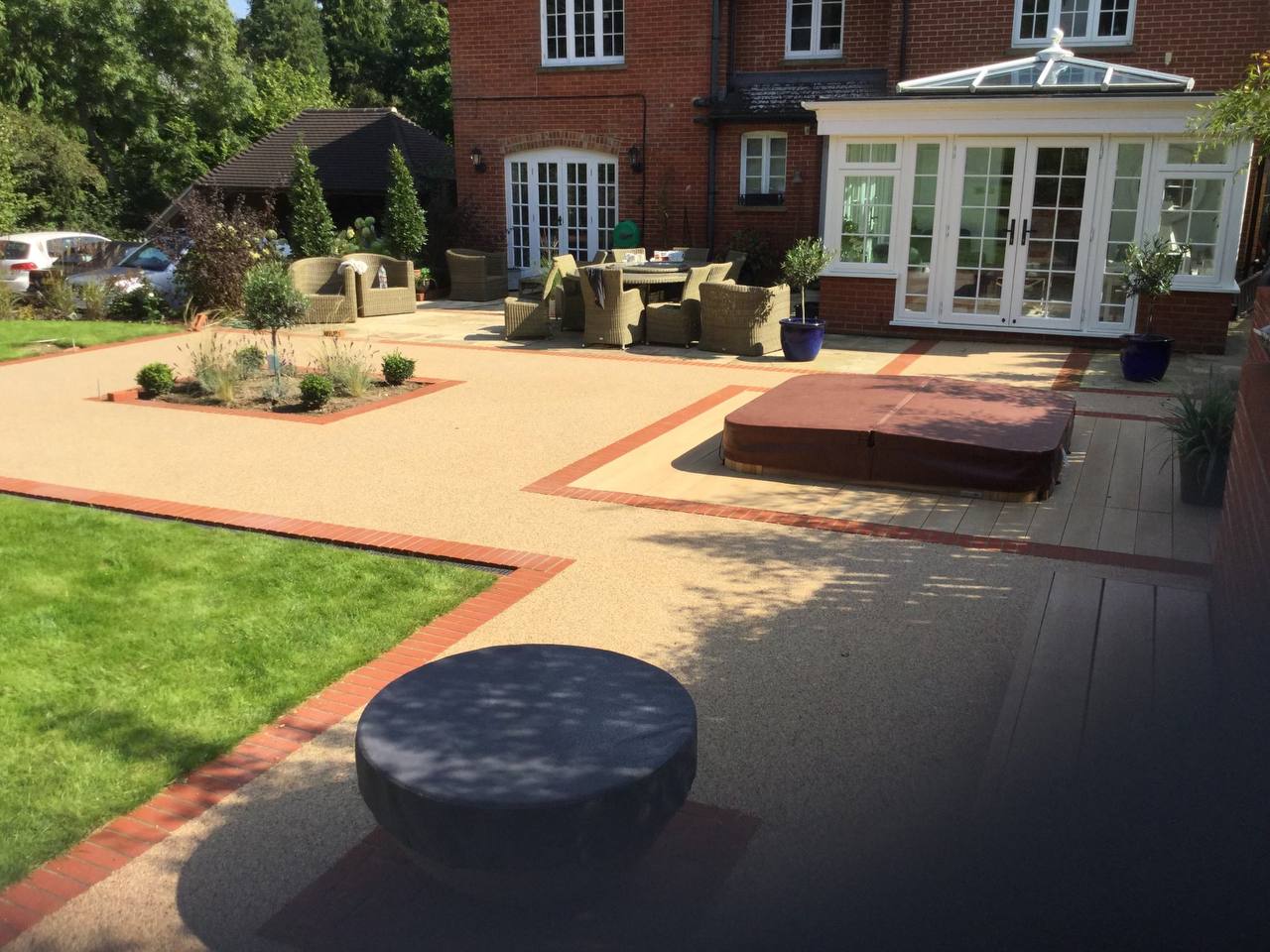 Is Resin Suitable For Patios?
Resin is a popular option for patios as it can be hard wearing and cheaper than natural stone.
Resin is a hard wearing material that doesn't require sealing making it an affordable option to other types of patio material, such as slabs. It can be used on new terraces or over old concrete, but unlike slabs, it doesn't need to be sealed before use. It is also more affordable than natural stone.
How Long Does A Resin Patio Last?
A resin patio lasts for a lot longer than other patio surfaces and so might be the best option if you're looking for something that will last. Resin is an elastic material, and so it doesn't crack under pressure, which means it won't break as easily as concrete. It can also be used on any surface, inside or outside, making it a very versatile type of patio and paving material.
Is Resin Patio Cheaper Than Paving?
Yes, resin is normally cheaper than paving. It is less labour intensive to install and its easier to cover a larger area in a smaller amount of time. Please get in contact with us to discuss your exact needs and we will be able to advise you what is the most cost effective option for you.
Can You Lay Resin Over A Patio?
Yes, resin can be laid on top of a patio. Providing it is a solid base such as concrete, asphalt or tarmac. Anything with a loose finish or something like pavers or slabs is not suitable to have resin laid directly over the top of it.
A solid base will mean that your new resin patio will last for years to come. Please get in contact to discuss your project and we will be able to advise you on the best solution for your patio.
Resin Patios Near Me
Resin Driveways Southampton covers all of Southampton and the surrounding areas. If you searched for 'Resin Patio Contractor Near Me 'and our site came up, we cover your area. Please get in contact to discuss your project and how we can serve you.